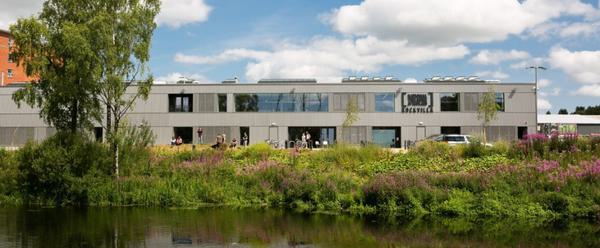 Named Rockvilla in recognition of the industrial and social heritage of the area surrounding Speirs Wharf in Glasgow, the building is a hub for supporting and developing talent and a place where people of all ages and abilities can learn and create. It is a place of imagination, learning and play. The National Theatre of Scotland's first purpose-built facility is a driver for the regeneration of North Glasgow and a major new asset for the cultural life of the nation as a whole. This new centre for creativity, production and talent development was designed by RIBA award-winning and Glasgow-based Hoskins Architects, and opened in 2017.

Rockvilla aims to help us to build on the extraordinary creative energy unleashed over the National Theatre of Scotland's first ten years, to enable us to nurture the talent of future generations, and to enrich the lives of all the communities we serve.
If you would like the opportunity to rent our versatile spaces for various events and occasions please contact info@nationaltheatrescotland.com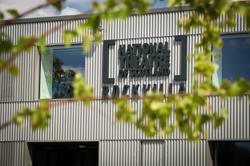 ---
HOW TO GET HERE:
[what.3.words - safety.highs.lows]
Rockvilla is located next to Speirs Wharf on the Forth and Clyde Canal in North-East Glasgow, approximately 25 minutes walk or a 15 minute cycle from Glasgow city centre. The nearest subway station to Rockvilla is Cowcaddens.

Upon exiting Cowcaddens subway station turn left towards Garscube Road.
With the Dundasvale Court flats to your right, walk under the motorway underpass until you reach a short staircase on your right.
Climb the stairs or use the ramp beside them, then continue on the right hand path until you reach a longer staircase on your left.
Climb to the top until you reach the canal.
Keeping to the left bank of the canal (opposite the Speirs Wharf residential block) walk along the canalside towpath towards the first pedestrian bridge.
Cross the bridge, turn left and you will see Rockvilla straight ahead
Food and Drink in the area:
There is a variety of places to get food and drinks in the Rockvilla area, including:
There are also a number of supermarkets a 10-20 minute walk away - more information can be found in the Rockvilla handbook.

---
ACCESS:
Rockvilla is fully wheelchair accessible.
There are two quiet spaces within Rockvilla, The Den in the upstairs office which is available to book for short periods of time and The Quiet Space, under the main staircasewhich is available on an ad hoc basis.
You can download our visual guide for Rockvilla here.
For any questions on your visit, please email info@nationaltheatrescotland.comor call us at +44 (0) 141 221 0970
---
ABOUT OUR FACILITIES:
With approximately 3700 sq. metres (40,000sq. ft) of space over two levels, Rockvilla provides the Company and the Scottish theatre sector with a flexible, fit for purpose space. The building hosts three rehearsal rooms, creative development spaces, a learning and community suite, a working wardrobe facility, production workshop and technical store, office space, meeting room facilities, and social areas. Alongside the rehearsal, creative learning and production facilities, Rockvilla also includes the Colin Weir AV and Sound Suites, meeting rooms, three kitchens, showers, a car park, bike shed, baby changing facilities and a Biomass boiler.