"This is the Start of Something Really Special" The Coming Back Out Ball by Joe Blythe
Latest
3 Feb 2020
News Story
This coming year sees Scotland host The Coming Back Out Ball: an event that helps to celebrate the country's LGBTI+ community like never before. Originating in Australia, where it was created by arts company All The Queens Men, the project has now been brought to Scotland for the very first time in partnership with the National Theatre of Scotland, working alongside Luminate, Scotland's creative ageing organisation, as well as Glasgow City Council and Eden Court in Inverness.
While it will culminate in a spectacular final one-night event in Glasgow, the starting point for The Coming Back Out Ball has been the Elder's Social Dance Clubs: a new set of regular, free social events for Scotland's elderly community that aim to bring people together in a celebration of stories, solidarity, and a love of good company. Taking place monthly in both Glasgow and Inverness, as well as popping up in other locations across Scotland throughout 2020, the clubs have proven to be a great success.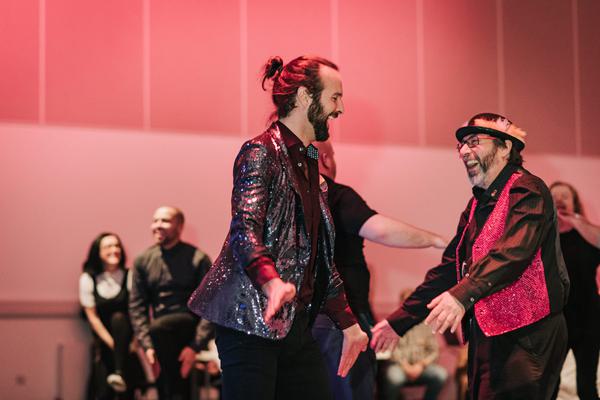 Lewis Hetherington, the National Theatre of Scotland's Creative Lead on The Coming Back Out Ball project, has already been encouraged by getting to know the attendees at the dance clubs in both Glasgow and Inverness, recognising how important it has been offering a safe space for participants.
"Even before we started the project I knew how important it was to create a space like this, because of the absolute lack of provision for the older LGBTI+ community in Scotland, but the need has become even more clear as we go. The responses from people coming along have been overwhelming and inspiring in terms of the difference it has made to people's lives, to know they have this place where once a month they can come and just be themselves without fear or judgement or persecution."
Tristan Meecham, a director at All The Queen's Men and one of the creative minds behind the project, agrees. In Australia, where the Social Dance Clubs have run successfully since 2015, a number of creative ageing organisations focus on dance as a gateway to examining its impact on ageing, grief, and diseases such as Parkinson's. However Meecham tells me that the dance clubs approach it from a different direction.
"Unlike the LGBTI Elders Dance Clubs, much of this work is focused on the instrumental value of dance, rather than the intrinsic value of cultural and creative expression. And it's important to note there is a gap in not only research, but also in the kind of programming which explores the role that dance plays, specifically in the lives of LGBTI older people."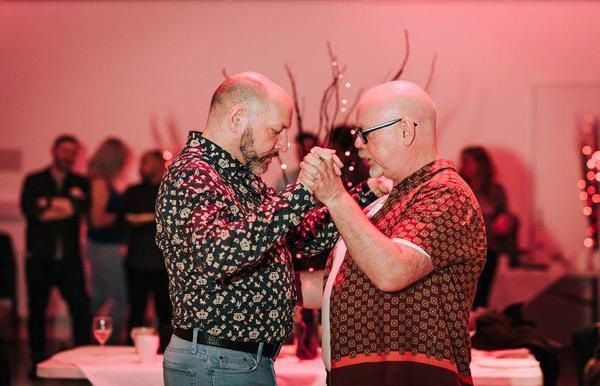 Having witnessed the difference it has made in its native Australia, Meecham is excited to see the longer-term impact on programming that The Coming Back Out Ball project could have in Scotland.
"In Australia, because this work has been presented for a number of years, these values are being understood by a variety of industry partners, both culturally and socially. We're seeing major queer organisations shift their cultural programming to include all ages. It is going to be exciting to see these changes also ripple through Scotland over time."
Part of the spirit behind The Coming Back Out Ball is to mark the reality that many LGBTI+ people face when they get older: namely, that they might fear having to "return to the closet", especially when facing the prospect of living in care or moving away from their community. Hetherington is keen that the dance clubs and the project can open people's eyes to the reality of living with that fear.
"It has been striking to me just how complicated it still is for people to be 'out' in public space. As a gay man myself I'm aware of how you are sometimes required to 'come out' over and over again, to new colleagues, to new friends. The stress and pressure of repeatedly coming out for people who grew up at a time when coming out was illegal is something we must not underestimate."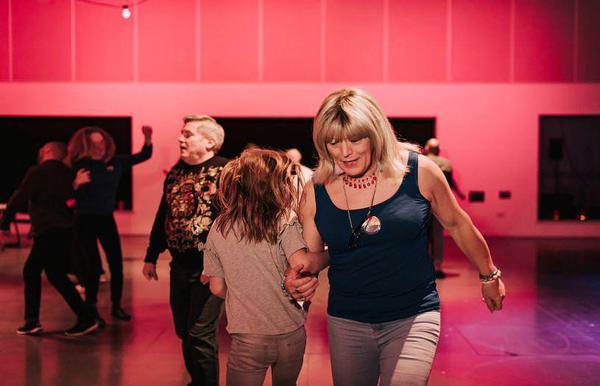 In order to address this, part of The Coming Back Out Ball project will see the National Theatre of Scotland, All The Queens Men, Eden Court, Luminate and LGBT Health and Wellbeing host The Coming Back Out Conversation, Scotland's first ever national forum about LGBTI+ people and ageing.
The special one-day event, hosted at the National Theatre of Scotland's Rockvilla HQ in Glasgow, will offer the chance to hear from LGBTI+ people about their experiences of getting older in everyday life, in care services and health provision, and anything else which emerges from consultations in the lead up to the event.
The aim will be to create a dynamic encounter between LGBTI+ Elders with lived experience and those who have the power to implement real change. Learning will be shared from and with Australian partners, All The Queens Men, to find out about the progress that has been made in terms of legislation and social change for LGBTI+ elders back in Australia.
Anne Gallacher, Director of Luminate, hopes that the event will prove to be a vital learning opportunity for those involved. "Creative ageing programmes are growing across the world and All The Queens Men have led some wonderful creative community work with LGBTI+ elders in Australia in recent years, so this project is a great opportunity for Scottish and Australian partners to learn from each other and for older people in both countries to connect and share experiences."
While Scotland is a country that prides itself on being a progressive, inclusive place when it comes to LGBTI+ issues, Hetherington believes that there is more that can be done. He hopes that all aspects of the Coming Back Out Ball project, from the community of the social dance clubs to the nationwide conversation it sparks, can help to spur on further progress.
"I'm delighted that a really broad mix of charities, communities and individuals are going to be taking part for us to start the wheels in motion for what practically needs to be done to make Scotland one of the best places in the world to be an LGBTI+ person, whatever your age. I hope this is the start of something really special and positive which goes on and on."
About the author
Joe Blythe is an experienced PR and communications professional who is currently the Media and Communications Officer with the National Theatre of Scotland. He has previously worked with a number of leading Scottish cultural festivals and organisations, including the Glasgow Film Festival, The Arches, the Edinburgh Mela, Take One Action Film Festival, and as a freelance journalist.