Reflecting Value: Physically Distanced, Socially Connected - Podcast
Latest
16 Mar 2022
News Story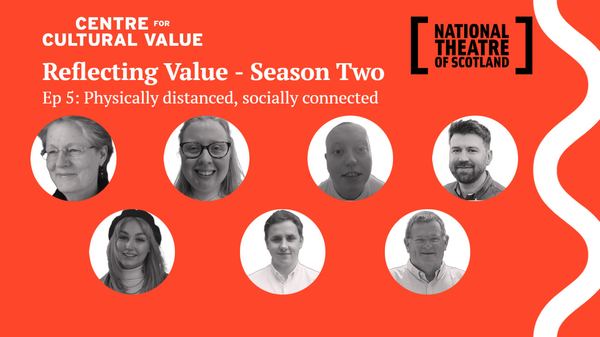 Reflecting Value:Physically distanced, socially connected. is a special podcast co-created with the Centre for Cultural Value focusing on creativity during lockdown.
Part of the second series of their Reflecting Value podcast, the episode brings together six people who have been participants in creative work during the pandemic.
Hosted by Lewis Hetherington, the podcast features interviews with participants and contributors who took part in the National Theatre of Scotland's recent creative engagement activity, including Stewart Gow and Carrie Bates (The Coming Back Out Ball), Charlotte Armitage and Kenneth Murray (Holding/ Holding On) and Jaqui Smyth and Peter Sproul (Non Optimum: When It Is Safe to Do So).
Their conversations explore the ways in which creativity helped them during the pandemic, and the positive impacts it had on them while in lockdown.
You can listen to the episode below, or find Reflecting Value at Spotify, Apple Music or wherever you find your podcasts.
The Coming Back Out Ball
A National Theatre of Scotland and All The Queens Men co-production, in partnership with Eden Court and Luminate in association with Glasgow City Council.
Holding / Holding On
Presented by National Theatre of Scotland as part of Care in Contemporary Scotland – A Creative Enquiry, written by Nicola McCartney
Non Optimum: When It's Safe To Do So
Presented by National Theatre of Scotland as part of Care in Contemporary Scotland – A Creative Enquiry, created by Lucy Gaizely/21Common
---
Related Projects
---