The Bank of Springburn is open for business
Latest
1 Dec 2022
News Story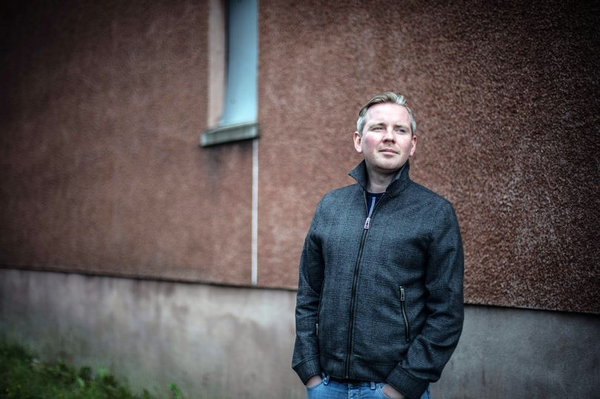 As part of National Theatre of Scotland's Neighbourhood Project, award-winning poet and theatre-maker Kevin P Gilday will be taking up a residency in a former bank in Springburn Shopping Centre in December 2022 and April 2023. The Bank of Springburn is a pop-up hub for the community to relax and enjoy, providing a community arts space, where everything is free, and the only transactions are powered by the people.
The Bank of Springburn offers up a warm and welcoming space for the people of Springburn to visit, and where their stories and memories can be listened to and recorded and where the kettle is always on. Drop-ins are welcome at the Bank of Springburn and no appointment is necessary.
The cultural pop-up will bring people together acting as a hub for the community to relax and enjoy a warm, welcoming space as well as hosting a range of workshops, drop-ins and live performances. A host of Scottish artists including Scott Agnew, Becci Wallace, Lauren Dick Texture, Shelltoe Mel, Erin Friel and Miles Better are loaning their talents to provide local entertainment.
The Bank will host free poetry and writing workshops and other special events throughout the month of December including live performances, a hip-hop showcase, and a special Lost Glasgow talk about the history of Springburn.
Kevin P. Gilday said:
"The Bank of Springburn is a project about connection. About opening up space in our community and celebrating what makes us unique. As a Springburn resident I wanted to have a space to connect with the amazing community I saw around me in our vibrant neighbourhood, but I also wanted to invite the world to us - to open up the doors to a part of the city that has been cut off and neglected for so long. This is an invitation to join us, to create with us, to discover the rich history of one of Glasgow's most important areas.
We're first and foremost looking to connect with our local community - of all backgrounds, of all ages. This is a space for the people of Springburn to share thoughts and ideas, to create and to be heard. But we also want to connect with Glasgow's wider creative community - to start conversations between artists and residents that are only possible when we create a space where ideas flourish."
The Bank of Springburn will be open at Unit 29, Springburn Shopping Centre throughout December 2022, and April 2023. The Bank is free to all for drop ins, with free workshops and live performances.
Full schedule and more information can be found here.