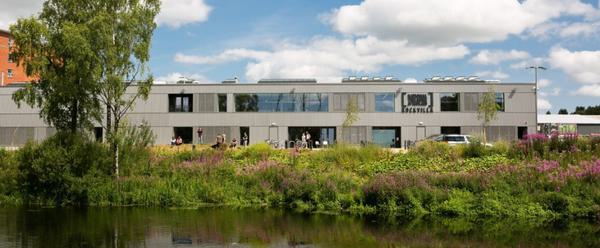 We acknowledge that institutional and systemic racism exists at all levels and in all facets of society, including in cultural institutions.
As a company made up predominantly of white employees and board members, we acknowledge institutional racism exists and occurs at National Theatre of Scotland.
We acknowledge and abhor the pain experienced by people of colour* because of institutional racism within National Theatre of Scotland. We know we have an urgent responsibility to address this and to do our part advocating for change within the theatre sector and wider society.
We want people who experience racism to feel safe, included and represented by the National Theatre of Scotland. This includes staff members, artists, freelancers, and audiences.
We want to be an active and positive agent of change in creating a theatre sector and a wider society that welcomes and celebrates different cultural and ethnic identities.
We are committed to approaching this work with care, whole-heartedness, and a thorough resolve. We are committed to learn, to listen, to change, as well as to being accountable and transparent.
We are focusing on five key areas of activities:
---
Governance and transparency
For it to affect real change, the commitment to becoming an anti-racist organisation has to be embraced throughout the Company. The National Theatre of Scotland's board is fully involved in the process and holds our Executive Team to account in the enactment of the anti-racism action plan.
The National Theatre of Scotland's board has undertaken unconscious bias and anti-racism training.
Members of the board attend our weekly anti-racism Learning meetings.
The board oversees progress on key anti-racism indicators via KPI and dashboard reporting in board papers as part of our Equality, Diversity and Inclusion reporting.
The board oversees progress on the overall anti-racism action plan through in-depth reporting from the Executive in the form of an annual report.
The board is committed to appointing more people of colour.
The board is committed to ensuring the organisation is transparent, open and accountable about the way it governs and sees publishing our progress on anti-racism as key to those principles.
---
People
We believe that for an organisation and its people to thrive, equality, diversity, inclusion, and belonging are vital. We recognise that who we hire is important but so too is career progression and creating an environment in which everyone can achieve their best while feeling supported. To become an anti-racist company:
All National Theatre of Scotland staff have completed part one of anti-racism and allyship training led by D/ecology.
We continue to have weekly anti-racism Learning meetings where we share and discuss different resources. These are open to staff and board members and are well attended by both.
An anti-racism actions group meets bi-weekly and is responsible for pulling together the action plan.
We are working with external facilitators to review and learn from historic and recent occurrences of institutional or systemic racism and where possible to make amends and repair any damage to staff, artists or freelancers who have been affected.
We are interrogating how we can make sure learning is shared and embedded across the company so that we do not repeat past mistakes.
We also commit to:
Rolling out anti-racism practices across all activities including: hiring, induction, remuneration, training and company care.
Increasing the cultural diversity of the staff base.
---
Programme and Artistic Development
Through our Programme and Artistic Development activities, we commit to:
Creating an environment where all artists we work with are supported and able to make their best work.
Ensuring that we are giving artists of colour the time and space to tell the stories they want to tell.
Not making assumptions about the stories artists of colour want to tell or the form they will take.
Where work involves trauma, ensuring that there is culturally specific care available.
Setting targets for work, both in development and on stage, led by artists of colour.
Following colour conscious casting processes.
In making the above commitment we know that we will make mistakes along the way. We also acknowledge that the experience of the artists is as important as the amount of work programmed and number of artists employed. We recognise that listening to artists of colour and acting on their feedback will be essential in our quest to become an anti-racist organisation.
---
Audience and Communications
At the heart of National Theatre of Scotland's mission is to be a theatre for everyone and we need to ensure that we are serving all of Scotland's communities as audience members.
We commit to:
Better understanding barriers to engagement and attendance.
Diversifying the journalists, social media and digital platforms we target and connect with.
Ensuring that our audience is a reflection of the Scottish population.
Interrogating our use of language and images, so that it is always done with care and respect and in a non-exploitative way.
Communicating our progress as well as any setbacks to hold ourselves to account.
---
Creative Engagement and Schools
Our Creative Engagement programme and work with schools enables us to engage with people long term and it is therefore vital that the Creative Engagement offer has anti-racism at its heart.
We commit to:
Looking at each project with an anti-racist perspective.
Expanding and diversifying our pool of practitioners.
Running careers workshops in schools with technicians of colour.
---
*Use of language
We acknowledge that the use of language around race and cultural identity can diminish and cause distress. We have chosen to use the identifier "people of colour" as our preferred umbrella term. We are aware that the current thinking around broader terms and groupings of people with different cultural identities is constantly evolving and we commit to continuing our learning and reviewing our language in line with contemporary anti-racism frameworks.
When referring to individuals or communities we will be as specific as possible with our language when referring to anyone's racial and or cultural identity
If you would like to discuss anything pertaining to our anti-racism learning and work, please email ayo.schwartz@nationaltheatrescotland.com (Head of Human Resources), and we can arrange for an external third facilitator if required.
---
Associated Pages