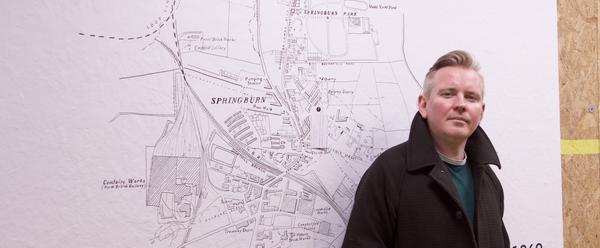 AT THE BANK OF SPRINGBURN, CONNECTION IS OUR CURRENCY.
Amidst a financial crisis, when money's worth dwindled and traditional institutions abandoned our high streets, we proudly introduced a new kind of bank.
Welcome to the Bank of Springburn—an arts space that defied norms! Everything was free, and transactions were powered by the people. The community gathered to relax, engage, and enjoy live performances, workshops, and more in this vibrant pop-up hub.
The Poetry Take Away was a hit! Visitors ordered personalized poems by Kevin P. Gilday and received them within just 30 minutes.
Throughout April, we offered free live performances every Saturday afternoon, and people dropped by any time for free poetry, desk space, and invigorating workshops.
Located at Unit 29, Springburn Shopping Centre, this creation was brought to life by the award-winning poet and theatre-maker Kevin P. Gilday as part of The Neighbourhood project. Together, we redefined the way we connected and thrived!

---
In Conversation | Bank of Springburn
As the residency at the Bank of Springburn progressed and the number of residents engaging with the project grew, we needed to find a way to capture all the remarkable memories, stories and rants that were being shared in the space every day. In response to this we set up a makeshift podcast studio in the back room of the bank in order to record these conversations in the moment without faff or artifice. These chats were unplanned and freeform, taking in specific memories, lively debates and plenty of laughter. The conversations yielded gems of insight into our recent past and contrasting opinions about Springburn's future. I spoke to members of the community who have lived in the area their entire lives, those who have moved away and those who have returned. We recorded writers, comedians, actors, artists, politicians, poets and pensioners. These conversations are presented with only the most minimal of editing, a document of our vibrant residency at the Bank – a vivid snapshot of life in Springburn.
---