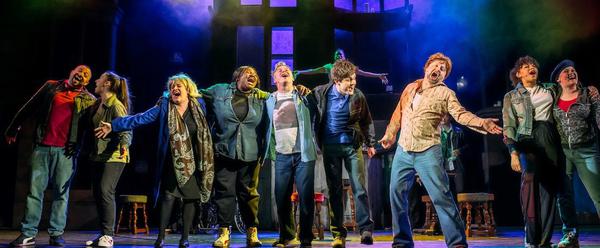 Orphans Sizzle Reel | Password Portal
Portal
Glasgow, 1998, one hell of a storm is ripping through the city. The Flynn siblings just need to survive the night and make it to their mother's funeral in the morning.

Thomas won't leave the church.

Michael is bleeding out and roaming the streets.

John has a gun and a taste for revenge.

And Sheila can't wait to live life on her own terms.

But things like this bring a family together, right?

Orphans is a darkly comic musical about family, grief and forgiveness. Don't miss this stage adaption of the multi award-winning cult film by Peter Mullan (Westworld, Ozark, NEDS, The Magdalene Sisters, My Name is Joe), directed by Scottish theatre legend Cora Bissett (Adam, Glasgow Girls, What Girls Are Made Of) and ingeniously adapted by Douglas Maxwell (Yer Granny, The Whip Hand, Decky Does a Bronco). With raucous and heartfelt music and lyrics by Emmy award-winning, Scottish composing team Roddy Hart and Tommy Reilly (Anna And The Apocalypse, Steven Spielberg's Animaniacs, Our Ladies).
Music and Lyrics by Roddy Hart and Tommy Reilly
Book by Douglas Maxwell
Directed by Cora Bissett
A National Theatre of Scotland production.
Based on the Film ORPHANS written and directed by Peter Mullan © Channel Four Television Corporation and the Glasgow Film Fund 1997.