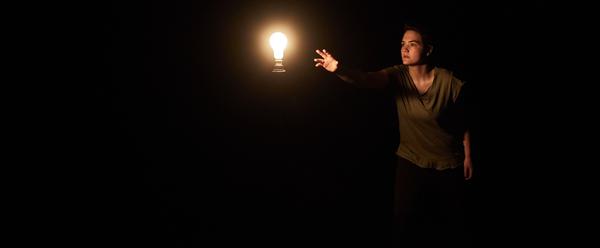 Ghost Light | Password Portal
Portal
Watch Ghost Light
A POETIC TRIBUTE TO  THE ART OF  THEATRE  MAKING  ON AN  EMPTY STAGE  AT THE FESTIVAL THEATRE
As a part of  My Light Shines On, the Edinburgh International Festival has commissioned some of Scotland's major national artistic companies to create extraordinary works that audiences can enjoy from their own homes. In celebration of Edinburgh, the Festival City, they bring light and life to sites that must stay empty this year with unique theatrical performances created for film and insights from artists.    
Ghost Light is a love letter from the National Theatre of Scotland, evoking moments from Scottish theatrical performances past, present and future with works from writers including J.M. Barrie, David Greig and Jackie Kay, and original composition by Patricia Panther.
On a vacant stage stands a single light bulb. It is known as a ghost light; lit by the last person to leave the venue and extinguished by the first to arrive. Its constant illumination represents the enduring spirit of theatre in dark times. As we follow it from auditorium, to wings, to dressing room, to foyer, it reveals glimpses of plays and performances that remain alive in the memories of the audiences who loved them, as well as new works shining a light on theatre that will return to our stages.  We encounter members of a phantom cast and crew, who reignite the magic of theatre and celebrate all those who create it.    
An outstanding cast of Scottish actors includes James McArdle, Siobhán Redmond, Thierry Mabonga and Anna Russell-Martin. Award-winning filmmaker Hope Dickson Leach and National Theatre of Scotland's Artistic Director Jackie Wylie have collaborated with dramaturg Philip Howard to conceive this celebration of theatre on film which received its world premiere on 8th August.
Written and directed by Hope Dickson Leachand co-conceived with Jackie Wylie and Philip Howard
A National Theatre of Scotland film in association with Selkie Productions
Commissioned by Edinburgh International Festival
Filmed at the Festival Theatre, Edinburgh