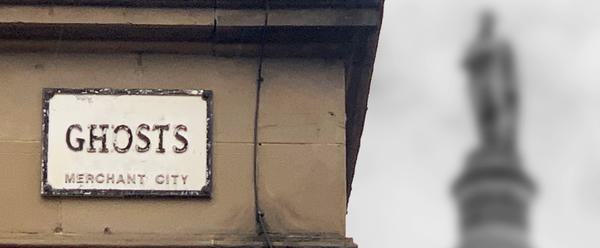 Ghosts
Glasgow Merchant City & App
26 April - 9 May
Overview
An immersive one hour theatrical experience for £4.99, only available until 9 May
Please note: Even if the app has already been downloaded, it will no longer work after 9 May
I am Glasgow.
Built with my blood,
My sweat, my dying.
A young man in 18th Century Glasgow, leads us on atmospheric journey of 500+ years of resistance through the streets of the Merchant City down to the River Clyde.
Download the app, plug in your headphones, and lose yourself in this poetic storytelling experience, exploring the myth of Scotland's collective amnesia of slavery and racialised wealth, of empire and identity.
Surrounded by AR visuals, haunting voices and music, Ghosts will take you on a physical and emotional journey. A lament to lives lost and an impassioned call to action in the present day. Take a socially distanced walk through the heart of modern Glasgow and see an essential vision of the city.

Written and Directed by Adura Onashile.
A National Theatre of Scotland Production.
Safety Guidance

While using the App please follow current Scottish Government COVID-19 guidelines. Make your own safety a priority and stop the app if you feel uneasy or unsafe. For further information and guidance please click here.
Explore
Videos
Ghosts | Interview with Adura Onashile

Ghosts | BSL Intro
Access
The route is accessible for wheelchair users and is approximately 1.5km long.
As we have not been able to integrate access into the Ghosts app, alternative, non-interactive Audio Described, Captioned and BSL Interpreted video versions will be available, for visually impaired, D/deaf and hard of hearing audience members.
These alternative versions can be experienced at home, from 26 April to 9 May 2021 and are free but ticketed, and can be booked using the links below
Already booked? Click your chosen video link below to watch. If you're having trouble getting logged in, please visit out our how to page.
For more information contact access@nationaltheatrescotland.comor call 0141 227 9019
Audio Described

Emma-Jane McHenry provides audio description. Listen to the Audio Description flyer here.
Book the Audio Described version here.
Already booked? Watch here.
BSL Interpreted

Fatima Niemogha provides BSL introduction and Nadia Nadarajah provides BSL interpretation. Watch the BSL trailer in the gallery above.
Book the BSL Interpreted version here.
Already booked? Watch here.

Captioned