The Strange Case of Dr Jekyll and Mr Hyde premieres at EIFF 2023
Latest
6 Jul 2023
News Story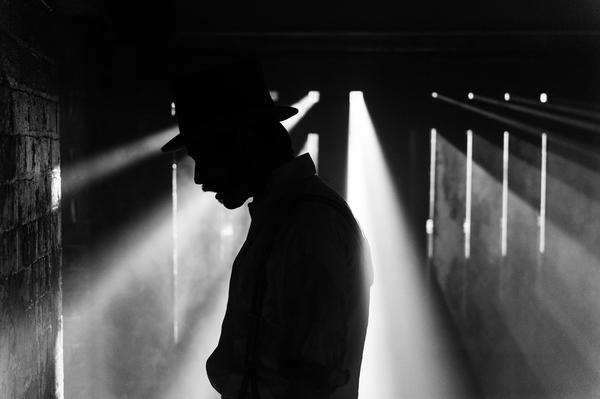 We are very excited to announce that  The Strange Case of Dr Jekyll and Mr Hyde will be screened as part of this year's Edinburgh International Film Festival.
The feature film will receive its world premiere at the Edinburgh International Film Festival on 21 August and will then be broadcast on Sky Arts later this year.  
Filmed largely within the atmospheric setting of Edinburgh's historic Leith Theatre, The Strange Case of Dr Jekyll and Mr Hyde was originally presented in February 2022 as a live, cinematic experience in the venue.
Written by Hope Dickson Leach and Vlad Butucea, The Strange Case of Dr Jekyll and Mr Hyde, returns to Edinburgh born writer Robert Louis Stevenson's original story which was published in 1886. The drama follows Gabriel Utterson as he enters a world of dark duplicity. To embrace the duality of the storyline, where Utterson's journey is set against the background and backdrop of Victorian Edinburgh, this version of the film has been shot in black and white. Contrasting the wealth of the breweries with the poverty of the Cowgate Vaults, an underbelly of dark truths and corruption is exposed. The story follows Gabriel Utterson as he is driven to uncover the identity of the mysterious and dangerous Mr. Hyde, to whom his good friend Dr Henry Jekyll is enthralled. Whilst on this search for the truth, Utterson finds himself seduced by the society of Edinburgh's rich and powerful, but beneath the glossy façade lies a grim and brutal reality. This is a Jekyll and Hyde reworked for a contemporary audience with the themes of power, class and masculinity brought to the fore. 
Film listings will go live on the EIF website from 10am on Thursday 6 July with tickets going on sale midday on Friday 7 July via https://www.eif.co.uk/edfilmfe...