New short film commission for Black Artists annnounced
Latest
26 Oct 2023
News Story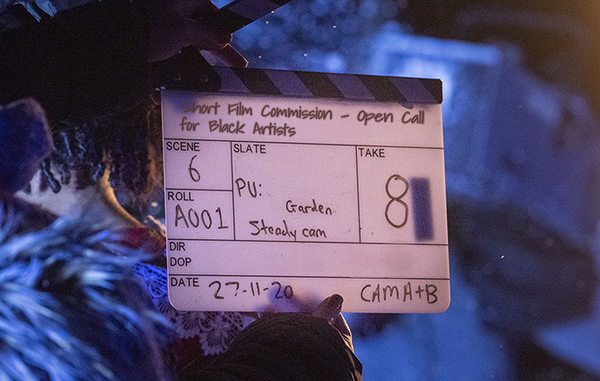 We are delighted to announce a new short film commission opportunity for Black artists and artists from the African and/or Caribbean diaspora, including those with mixed heritage, specifically those based in Scotland, with our partners Africa in Motion.
Through this first commission, with subsequent commissions to follow over the next two years, we are affirming our commitment to diversifying the talent pool in Scotland and creating opportunities for artists across stage and screen sectors.
This commission is part of our expanding programme of digital work, supported by three-year funding from the John Ellerman Foundation.
Applications to this open call are welcome from individual lead artists, duos, collectives, or artist-led organisations and early career artists and we encourage artists to look for stories in their communities, explore personal experiences, shared moments, or imagined worlds and do it in the genre that inspires them. A diverse range of narrative driven short film ideas are welcomed, including scripted, non-verbal, movement, creative documentary, animation, immersive, experimental or abstract. We will collaborate with the final team to develop a festival and distribution strategy for the film and will lead on contracting, scheduling, and managing the budget.
This commission and the producing of the selected short film are supported by Africa in Motion Film Festival. Now in its eighteenth year, Africa in Motion (AiM) is an annual African film festival taking place in Scotland, consisting of film screenings and complementary events.
We have gratefully received three years funding from the John Ellerman Foundation which will support the role of Digital producer within the Company as well as the commissioning and producing of three short films to encourage cross-sector collaboration between the stage and screen industries.
Subsequent short film commissions will follow over the next two years.
This open call opportunity is part of our ongoing commitment to the development of artists, creatives and technicians in Scotland and to diversification of the creative talent pool of Scottish theatre-makers. This call out is also part of an ongoing initiative to cross-fertilise talent between the screen and stage sectors to support more sustainable careers in the creative industries.
Jackie Wylie, Artistic Director, said:
"We are delighted by, and hugely grateful for the support of the John Ellerman Foundation which will allow us to expand the National Theatre of Scotland's award-winning and acclaimed portfolio of digital projects and to enable us to break down barriers between the screen and stage sectors, for artists and creatives working in Scotland. We are thrilled to be working with Africa in Motion for the first time, to create this brilliant screen opportunity for Scottish Black artists."
Liz Chege, Festival Director of Africa in Motion said:
"We are delighted to partner with the National Theatre of Scotland in broadening the reach of diverse cinema and artistic vision. The screen and stage sectors are rich in ingenuity and innovative approaches, making this collaboration a natural fit that offers manifold opportunities for creative expression. It is an exciting period for the Scottish film industry and we are grateful to the John Ellerman Foundation for making this partnership possible."

The total film commission is £12,000 including fees for artists, cast, and crew, application deadline is Tuesday 19 December 2023, with the final film being delivered in May 2024.
Full details on the commission, criteria and how to apply can be found here.