Full cast and creatives announced for Dracula: Mina's Reckoning
Latest
6 Apr 2023
News Story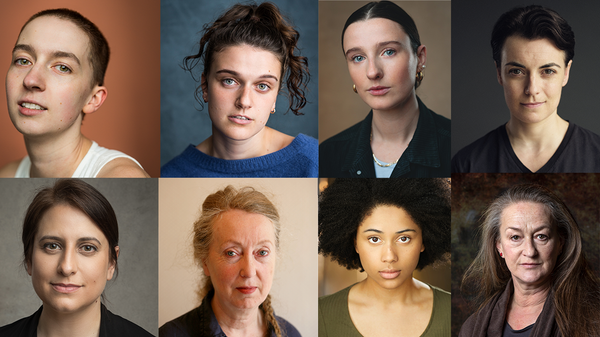 National Theatre of Scotland are delighted to announce the cast of Dracula: Mina's Reckoning, a thrilling new adaptation of Dracula by acclaimed Scottish playwright Morna Pearson, directed by Sally Cookson, brought to stages across Scotland and England this autumn.
The sweeping, atmospheric new production will star Natalie Arle-Toyne, Maggie Bain, Ailsa Davidson, Catriona Faint, Liz Kettle, Anne Lacey, Ros Watt, and Danielle Jam as Mina.

The lead character of Mina is played by Danielle Jam, currently on tour with Kidnapped (National Theatre of Scotland) and recently seen in James IV: Queen of the Fight, (Raw Material and Capital Theatres, in association with National Theatre of Scotland) and Wings Around Dundee (Dundee Rep), known to TV audiences for her roles in Scot Squad (BBC) and Molly and Mack (CBeebies).
Ailsa Davidson (Lucy and Elsie) has performed in Heathers the Musical (Bill Kenwright & Paul Taylor-Mills) in London's West End, Lipsync at the Edinburgh Festival Fringe (Cumbernauld Theatre), Elegies for Angels Punks and Raging Queens (Union Theatre) and Grease (UK & International Tour).
Liz Kettle takes on the role of Dracula, she was most recently seen on Scottish stages in Macbeth – An Undoing (Royal Lyceum Theatre Edinburgh) and has appeared in numerous roles on TV including Unforgotten IV, The Secret Life of Mrs Beeton, Doctors (BBC), Fracture (20th Century Digital / Disney), Honoria Glossop in Jeeves & Wooster, Inspector Morse, Rosemary & Thyme and Poirot.
They are joined by Natalie Arle-Toyne (Van Helsing and Titchy). Natalie's recent theatre work includes Mrs Puntila and Her Man Matti, Arabian Nights, Rhinoceros (CATS Ensemble Award) at the Lyceum Theatre and The Lost Lending Library (Punch Drunk/Imaginate).
Maggie Bain (Dr Seward and Georgina) has appeared in roles in theatre, TV, film and radio most recently on stage in Linck & Mülhahn (Hampstead Theatre), We'll Meet in Moscow (Traverse Theatre), Dream (RSC) and on TV in I Hate Suzie (Sky) and Luther: The Fallen Sun (Netflix).
Catriona Faint (Jonathan and Annie) most recently performed in Enough of Him (National Theatre of Scotland).
Anne Lacey (Mr Swails and Bella), who has worked extensively in theatre, film, TV and radio was recently on stage in Medea (National Theatre of Scotland at the Edinburgh International Festival), and Earthquakes In London (National Theatre); and on TV in Shetland (ITV).
Ros Watt's (Renfield and Katherine) previous work includes Godot is a Woman (Silent Faces) at the Pleasance, Edinburgh.
Set in a psychiatric hospital in Aberdeenshire in 1897, this unique Scottish adaptation places the character of Mina Murray at the centre of the action. The story is relocated to Aberdeenshire and the wild beauty of North-East Scotland, acknowledging the area's recently reported inspiration for Bram Stoker's classic novel. To mark this, Dracula: Mina's Reckoning opens at His Majesty's Theatre in Aberdeen in September 2023 before touring to Glasgow, Stirling, Inverness, Dundee, Edinburgh, Coventry and Liverpool.

The production features atmospheric, Gothic-inspired set and costumes designed by Kenneth MacLeod with video design by Lewis den Hertog, a dark, distinctive score from composer Benji Bower and visceral movement from Vicki Manderson.
Full tour and production info here.
Dracula: Mina's Reckoning is a National Theatre of Scotland and Aberdeen Performing Arts coproduction in association with Belgrade Theatre, Coventry.