Back to School with Theatre in Schools Scotland
Latest
22 Aug 2023
News Story
Theatre in Schools Scotland (TiSS), National Theatre of Scotland and Imaginate's successful schools touring project, is back to school this term with a new year-round programme of inspiring, accessible theatre and dance productions for primary schools and nurseries.
"We loved this performance. It was simple and gentle and totally engaging. All the pupils were engrossed and very happy. Thank you so much. Please come back!" Oaklands School, Edinburgh
TiSS is loading up the tour vans, packing up the props and looking forward to getting back on the road, touring excellent live performances made specially for children and young people into school halls.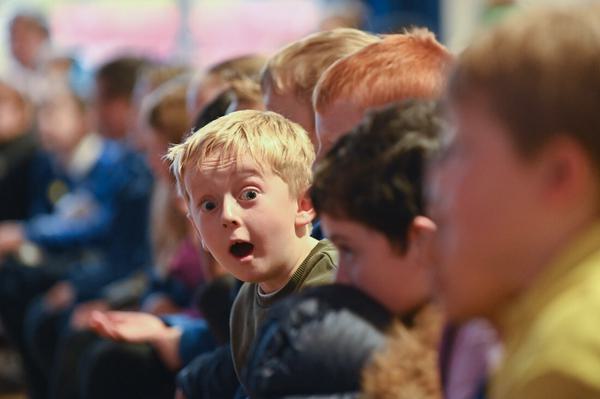 The new schools' programme sees the welcome return of Cloud Man by Constellation Points/Scottish Theatre Producers which had its original schools tour cut short due to Covid, an extended second tour of Going for Gold: Me and Linford Christie by Victoria Beesley/Catherine Wheels Theatre Company which was first off the TiSS blocks to great acclaim last year, and a brand new dance theatre performance The Last Forecast from Catherine Wheels Theatre Company/Bridie Gane.
For the first time, TiSS is delighted to be touring a show exclusively to ASN schools in Scotland, bringing the playful, bold MESS by Tenterhooks/Scottish Theatre Producers to schools for young people with complex additional support needs.
"It is particularly good that you visit rural areas as there are limited opportunities for the children to see and participate in a real performance. It was also a great experience for the staff." Rhunahaorine Primary and ELC, Argyll and Bute
TiSS productions are available for schools to book anywhere in Scotland and are suitable for a range of ages, from Nursery to P7.
Full Theatre in Schools Scotland programme and TISS contact details here: