A new Gaelic short film to mark World Gaelic Week | Film goirid ùr Gàidhlig a' comharrachadh Seachdain Ghàidhlig na Cruinne
Latest
20 Feb 2023
News Story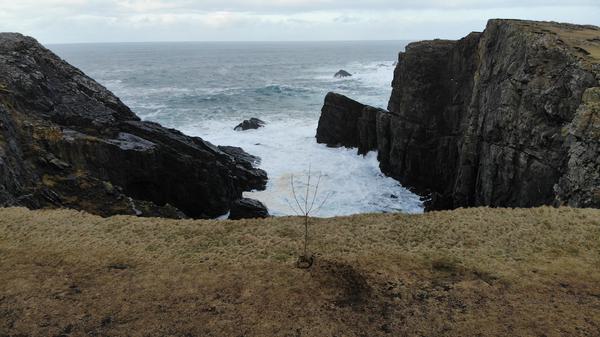 To mark World Gaelic Week, National Theatre of Scotland is premiering Car a' Mhuiltein | Somersaults, a new Gaelic short film by Gaelic playwright Iain Finlay Macleod
Shot on the Isle of Lewis and featuring archive footage from his family's traditional weaving craft and home movies, this new deeply personal digital artwork is inspired by Iain Finlay Macleod's 2011 stage production for the National Theatre of Scotland. Car a' Mhuiltein | Somersaults is a poetic exploration of language and how it defines who we are.
Iain Finlay Macleod is from the Isle of Lewis in the Western Isles of Scotland. His work for National Theatre of Scotland includes the award-winning, short film Danni the Champion, directed by Laura Cameron-Lewis. Produced in association with An Lanntair and Studio Fir Chlis which won acclaim at a host of international film festivals, picking up a nomination as well in the Celtic Media Awards.
The film is free to watch on all our platforms. Full information can be found here.
Film goirid ùr Gàidhlig a' comharrachadh Seachdain Ghàidhlig na Cruinne

Gus Seachdain Ghàidhlig na Cruinne a chomharrachadh, tha Theatar Nàiseanta na h-Alba a' taisbeanadh a' chiad sealladh de Car a' Mhuiltein | Somersaults, film goirid ùr Gàidhlig leis an sgrìobhaiche-dràma, Iain Fionnlagh MacLeòid.
Air a chur air bhonn air Eilean Leòdhais agus a' nochdadh dhealbhan tasglainn bho dhealbhan dachaigheil mu fhighe traidiseanta a theaghlaich, tha an obair-ealain ùr dhidseatach fhìor phearsanta seo air a brosnachadh leis an riochdachadh stèidse 2011 aig Iain Fionnlagh MacLeòid do Theatar Nàiseanta na h-Alba. Is e rannsachadh bàrdachdail air cànan a th' ann an Car a' Mhuiltein | Somersaultsagus mar a tha e a' dearbhadh cò sinn.
Tha Iain Fionnlagh MacLeòid à Eilean Leòdhais ann an Eileanan Siar na h-Alba. Tha an obair aige do Theatar Nàiseanta na h-Alba a' gabhail a-steach an fhilm ghoirid is buannaiche dhuaisean, Danni the Champion, air a stiùireadh le Laura Cameron-Lewis. Riochdaichte ann an co-bhonn leis An Lanntair agus Stiuidio Fir Chlis, a' buannachadh moladh aig grunn fhèisean film eadar-nàiseanta, a' togail ainmeachadh sònraichte a thuilleadh air aig Duaisean nam Meadhanan Ceilteach.
Tha am film an-asgaidh a choimhead air na h-àrd-ùrlaran againn uile. Gheibhear làn fhiosrachadh an seo.