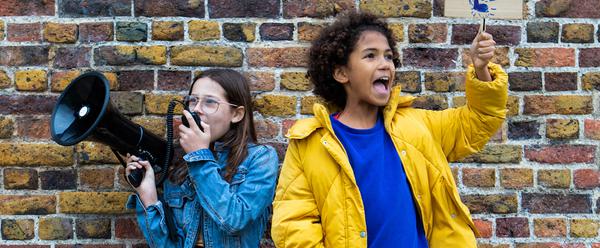 Protest
Newcastle, Edinburgh International Children's Festival and touring throughout Scotland
Apr - June 2023 | Newcastle and Scottish Tour
Overview
Running is Alice's happy place. She's the best runner at her school and can outrun everyone, even the boys…but she's struggling to prove her worth.
Jade is being tested. Racist bullying and history classes that tell a one-sided story sets her on a mission to find out about her heritage and those who came before her.
Meanwhile, litter is piling up in the local forest. All over the world an environmental crisis is looming, the threat of disorder and division is growing. Chloe is determined to make a change, starting with the town.
Three girls prepare to challenge the status quo and tackle injustices in this new play exploring the power of friendship, activism and the believing in your own voice.
A new play by Hannah Lavery.
Directed by Natalie Ibu.

Co-commissioned and co-produced by Fuel, Imaginate and Northern Stage in association with National Theatre of Scotland.

Developed and supported by the Scottish Government's Festivals Expo Fund and Imaginate's Accelerator programme. Accelerator is supported by the PLACE programme, funded by the Scottish Government (through Creative Scotland), the City of Edinburgh Council and the Edinburgh Festivals. Supported by the Binks Trust.
Part of the Edinburgh International Children's Festival and touring throughout Scotland in May-June 2023.
Header Image by Ali Wright
An uplifting ode to the power of hope and community activism
A stirring drama of waking up to injustice and trying to right it
A vibrant show, lifted by three beautiful and poignant performances
Explore
Video
Protest | Audience Reactions
Access
ACCESSIBLE PERFORMANCES
| Venue | Date | Time | Access |
| --- | --- | --- | --- |
| Northern Stage, Newcastle | Wed 3 May | 7:00pm | CAP |
| Northern Stage, Newcastle | Thu 4 May | 6:00pm | AD |
| Northern Stage, Newcastle | Fri 5 May | 7:00pm | BSL |
| The Studio, Edinburgh | Mon 29 May | 7:15pm | BSL |
| Tron Theatre, Glasgow | Thu 1 June | 7:00pm | CAP |