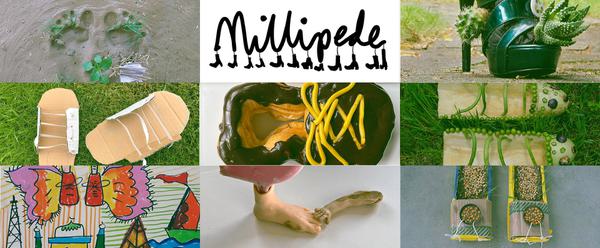 Millipede
Nov 2021 - Nov 2022
Overview
"The world needs help - I'll tell you why
We stomped on it and made it cry
To fix it we must walk with speed
All the way to Millipede……
Millipede - The shoe shop that doesn't cost the earth."
Millipede is unlike any shoe shop you've visited before. You won't find shelves stocked with the world's hottest sneakers or creaky back-to-school shoes here. Instead, our virtual showroom is packed with one-of-a-kind ideas from across the world.
More than a hundred unique creations have been put together on our digital shelves and are just waiting for you to come and try them out for size. Each piece of fantasy footwear has been created with one idea at heart: How to think about our own carbon footprints as we stand face-to-face with climate change.
Our creators have stepped up and crafted their ideas out of whatever materials they have around them- in their homes, their backyards, and the limits of their imagination.
Each shoe design has also been paired with special analysis from leading scientists at Edinburgh Science, Scotland and Science Gallery Bengaluru, India, examining its materials, its lifecycle, and the footprint it will leave on the world. We hope to encourage all our would-be shoppers to think differently about their own carbon footprints and fire their imaginations in taking those first steps towards shaping a better world.
Is your carbon footprint on trend? or so last season? Looking for footwear that reflects the new carbon neutral you?
Step inside millipede.shop

National Theatre of Scotland and ThinkArts present Millipede by Shona Reppe & Andy Manley, a creative commission project by British Council as part of COP26.
---
---
Explore
Related Posts