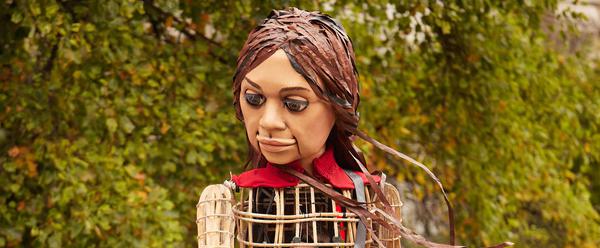 Little Amal at COP26 - We Are Mighty
Clydeside, Glasgow
Wednesday 10 November 2021
Overview
Little Amal, a 3.5m puppet of a 10-year-old Syrian refugee, is visiting COP26 (the 26th UN Climate Change Conference) in Glasgow from 9 to 11 November following her completion of the The Walk, a 4 month-long travelling festival of art and hope over 8000 km from the Syrian border to Manchester.

On Wed 10 November, Little Amal will meet and accompany over a hundred school children down by the Clyde on her journey towards COP26, marking the culmination of artist residencies in schools in Glasgow and Perthshire that explored climate and migrant justice.
Ayawara West African Percussion and Dance Ensemble are accompanying Little Amal and the young people.
Setting off from Kingston Quay, the young people will meet Little Amal, carrying flags that they have created for her, before walking with her along the Clydeside wearing capes adorned with their questions, their demands and their hopes for COP26. These capes will transform into a collective banner that fills the walls at Anderston Quay throughout the day, before being displayed at The Landing Hub, a special COP26 pop-up venue until 14 November.
Then together in Anderston Quay, the young people will plant seed pods in a moment of collective and connected action, with each seed representing a young person who is affected by climate chaos.

This climate justice arts project has been produced and facilitated by three of Scotland's major producing theatre companies working with St Teresa's, St Alberts, Blackfriars and St Joseph's Primary Schools in Glasgow and Grandtully and Comrie Primary Schools in Perthshire.
A National Theatre of Scotland, Citizens Theatre and Perth Theatre collaboration in association with Good Chance Theatre and The Walk
Relive the event through our livestream below.