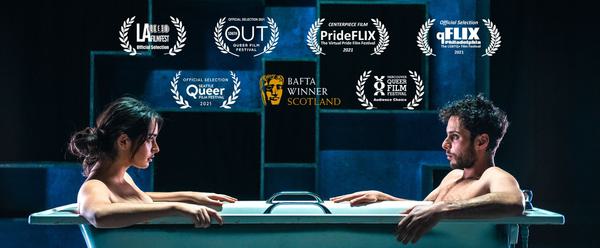 Running time: 1hr
Recommended age guide: 16+
WARNING: contains strong language, themes of transphobia, self-harm and simulated sexual violence.
Inspired by the life of Adam Kashmiry, Adam tells the remarkable story of a young trans man and his struggle across genders and borders to be himself. Originally a National Theatre of Scotland stage play, Adam has been reinvented as a compelling, theatrical on-screen drama.

Once again, Adam Kashmiry performs, as himself, in the leading role. Born into a deeply conservative society, Adam was assigned female at birth but always knew he was a boy. Trapped with no way to describe this feeling, in a place where falling in love with the wrong person can get you killed, he knew he had to escape. What followed was beyond Adam's wildest dreams – an epic journey for the right to change his body, to the boy he knew himself to be. 
Written by Frances Poet and directed by Cora Bissett and Louise Lockwood, this hour-long drama reworked for the screen focuses on Adam's isolating experiences in a Glasgow flat while awaiting a decision on his asylum claim. Trapped in a Catch 22 where he cannot prove his need for asylum as a trans man until he transitions but is unable to start transitioning until he is granted asylum, Adam is left alone to wrestle with his conflicting thoughts and feelings.
Adam features a virtual online trans world choir, brought together for the original award-winning stage production. They appear together on-screen singing Jocelyn Pook's epic choral original score.

Written by Frances Poet

Directed by Cora Bissett and Louise Lockwood
Produced by National Theatre of Scotland and Hopscotch Films
Commissioned by BBC Scotland and BBC Arts
Winner of BAFTA Scotland Award for Best Television Scripted in 2021.

---