Theatre in Schools Scotland announces a new schools programme of touring dance and theatre productions for 2023-2024 and issues a call-out for future productions
Latest
27 Apr 2023
News Story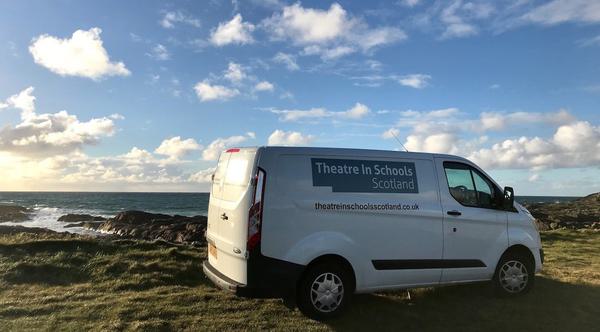 Theatre in Schools Scotland (TiSS), the National Theatre of Scotland and Imaginate's successful schools touring project have today announced a new year-round programme of shows for 2023-24.
The new programme aims to bring bold, inspiring live theatre and dance productions, made specially for children and young people by Scottish performing companies and artists, into schools and nurseries.
The programme sees the welcome return of Cloud Manby Constellation Points/Ailie Cohen & Lewis Hetherington which had its original schools tour curtailed due to Covid-19 in 2020; and an extended second tour of Going for Gold: Me and Linford Christieby Victoria Beesley/Catherine Wheels Theatre Company which was first off the TiSS blocks to great acclaim in 2022.
For the first time, TiSS is touring a show exclusively to ASN schools in Scotland as part of its programme and is looking forward to bringing the playful, bold MESSby Tenterhooks to schools for young people with complex additional support needs. TiSS is excited to also offer younger primary school pupils a brand new dance theatre performance, The Last Forecast, from Catherine Wheels Theatre Company/Bridie Gane.

The new programme is available for schools to book anywhere in Scotland, offering performances in schools for all ages, from Nursery to P7, with intimate performances of MESS for smaller groups of ASN pupils aged from 5-18. TiSS continues to offer subsidised bookings to schools and create partnerships with local support organisations, ensuring live performances reach schools not only in cities and towns but in remote and rural communities.
Julian Almeida, Theatre in Schools Scotland Project Manager said: "We are delighted to announce our 2023-2024 TiSS programme, and I am looking forward to speaking to schools about the excellent performances we have to offer, including new and returning performances, as well as our first ever show touring exclusively to ASN schools. The opportunity for children throughout Scotland to experience performances in their school is invaluable, and TiSS is committed to developing the link between schools and Scotland's theatre and dance sector"
Theatre in Schools Scotland Artist and Company Call Out
TiSS is currently seeking touring productions from artists and companies based in Scotland to be a part of the TiSS programme for the school year 2024-25 covering the Nursery - S2 age range. These remounted productions should be designed especially for school halls and classrooms, and can travel anywhere in Scotland. TiSS also welcomes applications for productions for young audiences already touring in 2024 for its Associated Productions strand.
More information about the TiSS call out and application details are can be found here.

Full programme info can be found here.