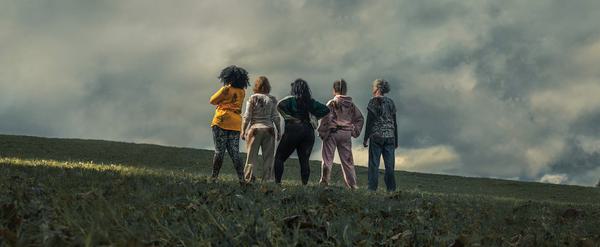 Contact Us
Contact us with any questions about access for Thrown
Email: access@nationaltheatrescotland.com
Phone: 0141 221 0970

Our office is open from 10.00am – 6.00pm, Monday to Friday. If you are calling or emailing outside of these hours, please leave a message with your contact information and we will respond as soon as possible.
Access tickets can be purchased using the BOOK NOW links on our website.
WHEELCHAIR ACCESS
All venues for Thrown are accessible. To book a wheelchair space on tour please contact boxoffice@nationaltheatrescotland.com.
AUDIO DESCRIPTION

Audio Description by Emma-Jane McHenry is on the following dates and times:
The Queen's Hall, Dunoon: Thu 6 July, 6:30pm
Traverse Theatre, Edinburgh: Wed 9 August, 1.30pm
Traverse Theatre, Edinburgh: Thu 17 August, 6.30pm
AUTISM FRIENDLY
We aim for all performances of Thrown to be Autism Friendly and neurodivergent audience members are welcome at all of our performances. Visual guides will be available to download on our website and will be available from box office at the venue. A chill out space will be provided at all venues where space allows.
Visual Guides
INTEGRATED BSL INTERPRETATION
Integrated BSL Interpretation by Yvonne Strain is on the following dates and times:
Victoria Halls, Helensburgh: Sat 8 Jul, 7:30pm
Rockfield Centre, Oban: Sat 22 Jul, 7.30pm
Traverse Theatre, Edinburgh: Tue 8 August, 11.00am
Traverse Theatre, Edinburgh: Sat 12 August, 9.00pm
Traverse Theatre, Edinburgh: Tue 15 August, 1.30pm
Traverse Theatre, Edinburgh: Sun 20 August, 1.30pm
CAPTIONS
Captions by Alison Pendlowski are on the following dates and times:
Victoria Halls, Helensburgh: Sat 8 Jul, 7:30pm
Victoria & Albert Halls, Ballater: Wed 12 Jul, 7.30pm
Traverse Theatre, Edinburgh: Sun 13 August, 11.00am
Traverse Theatre, Edinburgh: Thu 24 August, 9.00pm