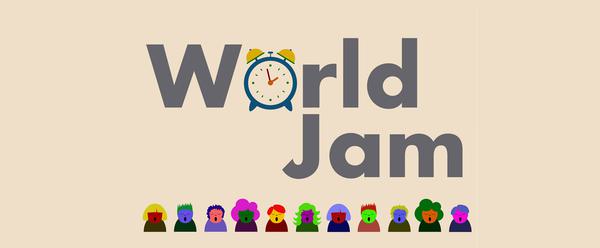 World Jam
Broadcast Monday 10 August at 2pm
Play Dates marks the return to school for children in Scotland with World Jam, a new piece created by Mamoru Iriguchi, with musical direction and dramaturgy by Greg Sinclair.
World Jam is a is a conceptual zoom jam session by children from different time zones who were brought together online to sing Auld Lang Syne at 2pm on 1 August (their local time), accompanied by a young Scottish piper. The session features 18 children from 11 countries, singing in 11 different languages including Maori, Bengali, Hindi, Arabic, Japanese, French, Japanese, Scots, Amharic and Mandarin.

Different time zones? No problem! This project will be a reminder of the joy of physically being with others, as well as the desire of feeling connected to people all around the world.
The full World Jam choir are: Anika Dalwani (India); Bowen Gao (China); Farah Ibnat (Bangladesh); Fikir and Hiwote Abraham (Ethiopia); Isaac and Leo Convey (Scotland); Mahika Mittal (India); Mhairi Isobel Bremner (Scotland); Miar Kawwas (Palestine); Miguel Ángel Rodríguez Luna (Mexico); Mitsuki Yokoya , Yuto Yamaoka and Momo Kodama (Japan); Renata Campolongo Sureda (Argentina); Tia Ormsby (New Zealand); Tiago Deweznd and Vincent Villaume (France).
World Jam is in association with The A.S.K. (Art Space for Kids) and Al-Harah Theater.

For all ages.
Share the Play Dates fun!
We'd love you to share the fun you're having with us. You can send your pictures and videos to us at: playdates@nationaltheatrescotland.com, tag us on social media or use the hashtags:
#PLAYDATES #PLAYATHOME
Play Dates celebrates and offers fee-based employment to talented freelance artists, technicians and practitioners, who work regularly behind the scenes on the creation of world-class Scottish theatre.
Play Dates offers a selection of curated online resources, including artistic demonstration videos, relating to previous National Theatre of Scotland projects, hosted for free online.
National Theatre of Scotland in association with Starcatchers and Imaginate.