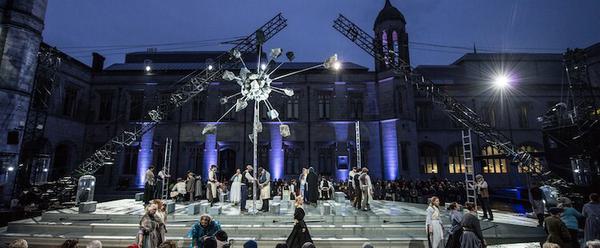 We aim to be a "theatre for everyone".
We particularly want to hear from artists whose voices, stories and communities have been underrepresented and underserved by the theatre industry.

---
We are an artist and ideas led company. Read on for details of how to share your idea with us.

There are three routes for projects and artists to be given a commission and/or programme development: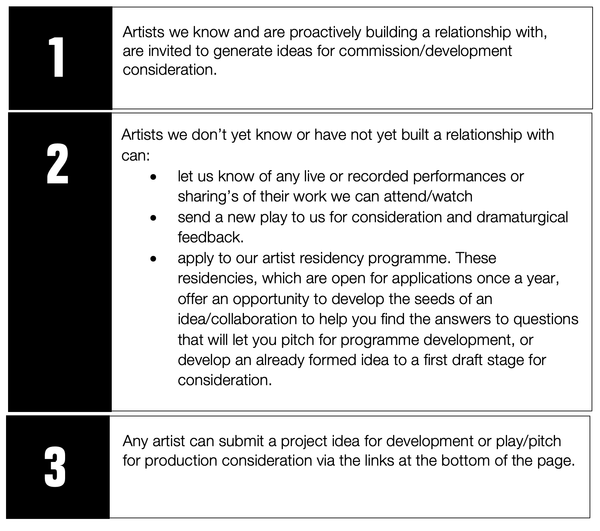 ---
WHATS HELPFUL TO INCLUDE WHEN SUBMITTING YOUR IDEA
What is the story it will tell or the central theme/exploration of the work?
Who is it aimed at? That could be a specific audience identified by age, cultural community, geographic location etc
In order to reach that audience, what do you imagine to be the platform for that work? Theatre venues, a specific site or location, a digital platform etc? Would it tour or be presented in one location?
Who is/ or would you like to be involved? This can include size of cast, creative team, any partners (venues/ producers). This question can be helpful for us to get an idea of the scale of project and at what stage it is at in terms of how much development it could need to get it ready for production
Do you have an idea about timescale and what you will need for different stages of development? Research time? Writing/ devising/ choreographing time?
---
What happens next?
You can submit your ideas/scripts for live or digital performance for development support or programme consideration at any time, via our New Ideas Portal (link to submittable links).
These ideas are discussed and considered alongside our existing works in development, at one of our monthly New Ideas meetings which are attended by our Artistic Director, Associate Artists, Artistic Development Team and directors of other departments. On occasion we will also be joined by a paid panel of freelance artistic advisors (i.e. artist residency submissions).

Outcomes and next steps of our artist residencies are fast tracked to a New Ideas meeting.

You can also submit scripts to our Script Reading Programme for dramaturgical feedback. In the first instance all eligible plays are read by a paid, external script reading team.  Reports from readers and recommendations are shared with our Dramaturg, Artistic Development team and Artistic Director. 
We aim to read and share this feedback within 3 months of a play being submitted.
---
---