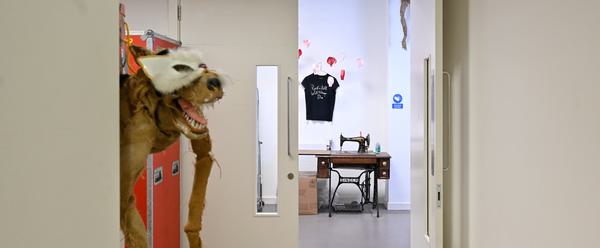 Commonly asked questions | Residencies 23/24
Residencies
| Application Form Questions

Here we explain what some of the questions on the application form mean.
To access this information in BSL click here


Tell us about you and how you make work?
Tell us about what you do. For example, are you a writer, director, or choreographer? Also, tell us what kind of work you make. This could be things like making musicals, performances based on places, or work about themes. If you have a biography, you can include that. If you are new to theatre and have worked in a different field that's related to what you want to do in theatre, you can tell us about that too.


Tell us about the idea or project you want to develop?
We know that this residency will allow you to explore and dive deeper into your idea, this question is asked so you can tell us what you hope to explore or make during your residency.


Tell us if you were awarded this money how you would spend it to achieve what you want?
We will work with you on managing your budget and what you can do with the money. But we want to know roughly what you will spend the money on. For example, your fee, materials, paying people you work with, and so on.
We have set fee rates which we expect you to pay yourself and anyone you work with. Our development rates are:
- £150 per day for up to four days in a row, or
- £697.52 per week for up to six days in a row.


| Eligibility (Who can apply)
You said you will not choose an artist "who has had more than 3 works which have been commissioned and fully funded. This means that a venue or company has supported your play from the very beginning to being put on a main stage." What do you mean by "put on a main stage"?
When we say a play has been put on a "main stage", we mean that the play
Was performed in a venue with at least 250 seats, and
Was at the venue for at least a week, and
Was 'professionally funded'. This means that the money for the play came from a theatre, or company, or funding body.
Or, it could also mean that a theatre or company asked you to make the work. And helped you make it, from the early idea to putting it on stage.


Discover (Highlands): I live outside of the Highlands, can I apply?
Yes. In your application you can let us know about how you want to make work in and for the Highlands.


I have had a sharing and/ or done some research and development already. Can I apply?
Yes. You can still apply if your sharing and the research was in early stages of development.


Discover (Writer): what do you mean by "one written professional work made"?
This can include things like:
play texts
screenplays
poetry
fiction that you have been paid for and presented in front of an audience (including live, screen or digitally).


I'm an artist/ creative but new to theatre. Can I apply?
Yes, artists from any artform can apply for Discover (Highlands), Develop (Disabled Artists) or Develop (Artists in Community). You need to have professional experience in your field.
If you want to apply for Discover (Writer) you need to have at least one play professionally staged.
I have more than 1 idea, can I apply to more than 1 residency or to the same residency opportunity multiple times with these ideas?

For Develop (Artists in Community) as the lead artist you can apply more than once to this residency.
If you have more than 1 idea you want to apply for, then you must submit a new application for each residency.
For Discover (Highlands), Discover (Writer) and Develop (for Disabled Artists) - as the lead artist/ collective/ group you can only apply once to each of these and they must all be different ideas. However, you can also be a named artist on other applications just not the lead. The same lead artist/ collective/ company will not be selected for more than one residency.
I have submitted this idea to New Ideas or another NTS opportunity can I apply to the residencies with the same idea?
No, please only submit ideas you haven't already proposed to NTS
I have used the script reading service for the same idea I want to apply for, would this be eligible?
Yes, this would be eligible. However if you're sending in the orginal draft you shared to script reading service, you may want to consider how to communicate what will be developed during the residency

What do you mean by New Work?
New Work is anything that hasn't already been developed into a full production to a public audience. For example if the work has had some development already, like a rehearsed reading, or an extract performed at a scratch night then it we would still consider this as 'new work'.




| Application Process


Do I need to stick to the application word count and length?
Please use the word count and time length for video and audio applications as a guide. You don't need to use up the whole word count or length of time. We also know that if you are writing or speaking in a language other than English, it might take you longer to say all that you want to.


Supporting materials - can I include work that has not been performed as an example of my work?
Yes, showing us examples of your work (like your writing style) is useful for the panel. If you're applying for Discover (Writer), you can also share plays that haven't been performed yet.
We will get a lot of applications. So we might only have time to read or watch around 20 minutes of your writing or videos. If your work is longer, you can tell us which parts are most important for us to see.


I am having trouble using submittable.
Please email artistresidency@nationaltheatrescotland.comif you are having any problems.


How will you decide which application to choose?

We will look at how well you answered the questions and whether you have given examples to back up your answers. We will talk together to make decisions. It will not just be one person deciding.
We're looking for 2 important things:
How you and your idea/project fit with our programme priorities, and if you have a new or exciting approach.
How this time will help you achieve your goals for your project and for your career in the future.
We know that some groups of people face more barriers to working in theatre.
We especially welcome applications from artists who are:
Black, Brown, or People of Colour


Women


Trans or non-binary


Lesbian, gay or bisexual


Disabled


From a low income household.


We also welcome people to apply who
speak Gaelic, Scots or BSL
do not live in Edinburgh or Glasgow
experience discrimination.




| During the Residency


Can I choose my own creative team?
Yes, you can choose your team. But we can advise you and help you find people to work with.


Finance – Can National Theatre of Scotland help me with my budget?
Yes, we will work with you and help you with your budget. If you have a producer (for example for Develop Residencies) then we will work with them on the budget.


How does the access budget work?
We have a separate pot of money for lead artists' access needs. This can cover things like:
caring responsibilities
travel
aftercare
translators and interpreters
PA roles
software.
Other access costs for your project will come out of your residency budget. We will work you on this.


| Other Questions


I have a project or idea. Can I talk to National Theatre of Scotland about it?
We want to work with and help Scotland's artists throughout the year. There are lots of ways you can get in touch with us to talk about your work.
Artists and companies can send us an idea or play at any time. You can ask for help with Research and Development, or ask us to put on the play, and we will think about it. For more information and links visit: nationaltheatrescotland.com/for-artists/your-ideas
If you don't yet have a relationship with us and would like us to begin connecting with you, you can let us know about any upcoming work we can attend (including works in progress, scratches etc) by emailing: invitations@nationaltheatrescotland.com
If you haven't talked to us before and want to connect with us, you can tell us about any events you're having. This could be things like shows that you are still working on. Just email us at invitations@nationaltheatrescotland.com.
---
Please note that Visual quality, camera and editing skills will not be taken into consideration for filmed submissions, and spelling and grammar will not form part of the consideration of written on the residency application form
| BSL