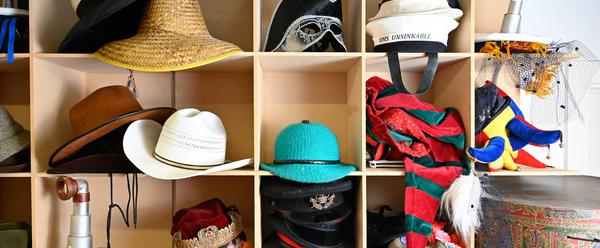 This year we are offering four Artist(s) Residencies. These residencies are for an artist or a group of artists to develop an idea or project, with a dedicated budget, access to studio space, equipment, technical advice and expertise, as well as producing and dramaturgical support.

Click here to access this information in Gaelic
---
Each Discover residency will be awarded £5,000 and have up to two weeks studio time (within a three-month period).
| Discover (Writer)
This residency is for writers who want to start work on a piece of new writing for theatre. Writers need to have had at least one written professional work made. This can have been in any form.
| Discover (Highlands)
This residency is open to an individual artist/ duo/ collective who are based or committed to making work in and for the Highlands, Scotland. Delivered in partnership with Eden Court.
For this residency, by 'Highlands' we are referring to Highland Council and Moray Council areas. We will also consider applicants who are based across the wider Highlands and Islands including across Argyll and Bute, Western Isles, Orkney and Shetland council areas.
Each Develop residency will be awarded £20,000 and have up to six weeks of studio time, over a five-month period

| Develop (Disabled Artists)

This residency is for lead, or if a collective, the majority of, artists who are disabled, deaf, blind or partially sighted, neurodivergent or have other ill health conditions including chronic illness and mental ill health. The artist/s will have up to six weeks studio time (30 days within a five-month period).
| Develop (Artists in Community)
This residency is for an artist, company or community group based in North Glasgow or with a connection to North Glasgow who are interested in creating short artistic projects through a residency model for, with and by the community. The resulting project will form part of our ongoing Neighbourhood Project. As well as residing/have a connection within North Glasgow they must have previously worked within a community setting.


---
| Eligibility
This programme is for:
Artists from any artform who have professional experience (we encourage applications from those who are early career in the industry as well as those exploring a new creative role)
Artists whose idea and project speaks to at least one of our programme priorities listed below
Artists who are based and working in Scotland and have the right to live and work in the UK
Artists who are over 18 years old and not in full-time education
We would be unlikely to select an artist/collective
who has been a lead artist (such as playwright or director) on a National Theatre of Scotland main-stage production
who has previously been awarded a Starter (Engine Room), Discover or Develop (2022/23) residency or a writers' attachment with National Theatre of Scotland within the last 5 years
who has had more than 3 works which have been commissioned and fully funded – by a venue or company from its initial development stage to a professional produced production presented at a main stage scale.
We welcome applications from artists who haven't worked with us before.
Artists can apply with a maximum of one idea for any/each opportunity. If submitting to multiple opportunities, each submission must be for a different idea. The same lead artist will not be selected for more than one residency.
You can apply more than once to Develop (Artists in Community) with each idea in separate submission.


| Our programme priorities

For all four residencies, we are looking for artists whose proposed project/ idea can speak to one or more of our programme priorities in innovative and interesting ways. These programme priorities are across form, audiences, and themes:
Work that explores climate justice
Work that speaks to contemporary Scotland
Large scale popular programming, unmissable cultural events.
Work by, with and for those who are not regularly served by the current theatre infrastructure, including rural touring across the nation.
Pioneering site-specific and landscape work.
Work by, with and for historically and currently excluded groups and communities
Work for younger people (18- 35)
Work that celebrates all Scottish languages and those spoken in contemporary Scotland, including (but not limited to) Gaelic, Scots and British Sign Language (BSL).
Here is our FAQ info sheet.If you have a question or an issue that isn't here or need more information then do please get in touch via email artistresidency@nationaltheatrescotland.com or phone 0141 227 9499.
Alternatively, we also have an online session (on Zoom) where we can answer specific questions on your application directly, this will have BSL interpretation and live captions. This session is on 12 September 10:30am-11:30am. Please contact artistresidency@nationaltheatrescotland.com to be sent the details.