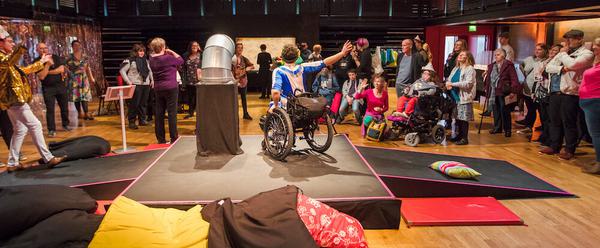 Creative Careers | Journey to a Dream Job
Journeys to a Dream Job
Overview
Dates for the new academic year coming soon!
We are delighted to announce the return of our popular Journey to a Dream Job workshops here at Rockvilla. Aimed at Secondary School pupils in S3-S6, these one-off sessions will share with pupils the various careers within The Creative Industries and the journeys many of our team at the National Theatre of Scotland have taken to get to where they are today, with many taking what could be seen as an unconventional route, picking up a raft of transferable skills along the way.
After a tour of our headquarters, a selection of National Theatre of Scotland staff will share their career journeys with pupils in a fast-fired fun presentation sharing failures and successes and all the learning in between. After this, pupils will take part in a practical workshop exploring how best to present "The best version of me" before working together to create their own mini group presentations. We are fully aware of the impact the pandemic has had on young people and have adapted our previous sessions to reflect this, with more time for discussion, reflection and group work and not forgetting to add some fun into the mix too.
There will also be opportunities to ask our team any questions.
We are passionate about working in the creative industries and as such, are keen to make the next generation of creatives aware of the opportunities there are. We know that the arts can be a fantastic tool to create confident, ambitious, creative thinkers in any workforce, and we hope to communicate this in these sessions.
---
Explore
Watch our 'Journeys to a Dream Job' videos
Dream Jobs | Brenna Hobson

Dream Jobs | Callum Smith

Dream Jobs | Nelly Kelly

Dream Jobs | Karen Allan

Dream Jobs | Anne Marie Platt